PRIVATE TUITION
I really enjoy teaching 1-2-1 sessions, it means mainly that you get personalised and effective programmes designed to meet your needs, complete attention focused on your alignment and technique, and support to help you achieve your goals.
Consider investing in your health. You won't regret it. Here is what a few people have to say about the private tuition...
"I decided to try yoga as a process to improve my health. I have the start of arthritis in some joints and I lost confidence in doing exercise after a number of painful joint/muscle/ tendon problems in my hip, feet and shoulder. I don't like taking medication for pain and inflammation and started to research alternative ways of managing my condition. I really hadn't wanted to join a gym and so when I found out that Claudia was offering one to one yoga sessions I contacted her. I cannot tell you how much that email has changed my life. I know that sounds like a cliche but it is so true.

I am no dancing dolly but after weekly sessions over only two months I can move around better and am much stronger in my core and more than that I am more confident to continue improving. Claudia is very knowledgeable and very sensible about my yoga improvement plan. We talk things through and chart improvements. I have had fewer episodes of pain and discomfort and when you know what positions she has been able to get me to do it is quite amazing.

I think the relaxation and breathing techniques she teaches alongside the movements is key to the success I feel. I have used these in so many different ways including when on the end of a difficult telephone call centre conversation!! It is such a shame that local GP's don't recognise that they should be prescribing yoga. I wish that I had started this when I was younger, I am now sixty and thankfully it is not too late but my message to anyone thinking about it.... just do it, contact Claudia and make the first move of what will be many new moves." Nicola Sawyer.
"For me, my 1-2-1 sessions with Claudia give me a whole mind and body experience. I've achieved things with my body I never thought possible. Yoga helps me to de-stress, my sleep has improved and I now have a calmness dealing with day to day issues. For me, the mind benefits are just as significant as the physical benefits." Jane, age 51.

All equipment is provided – mats, straps, blocks, blankets, eye pillows and bolsters. So if you would like a 1-2-1 session with me, then lets make that happen.
Rates start from £55 per hour.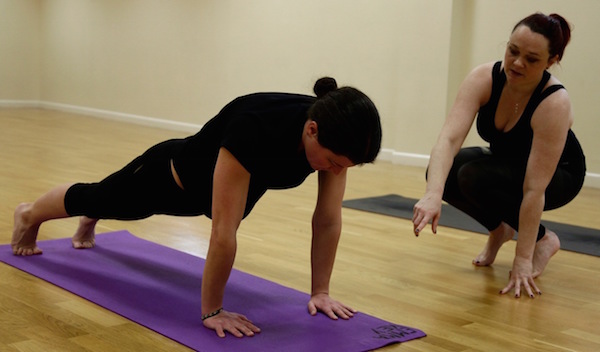 So if you would like a 1-2-1 session with me, then lets make that happen.
We will develop a personalised programme that will include goal setting, a yoga for health prescription if required, and you will learn about different breathing techniques, be given various reference materials, personalised yoga sequences to do at home, and you will experience a wide variety of meditation and mindfulness techniques.
---